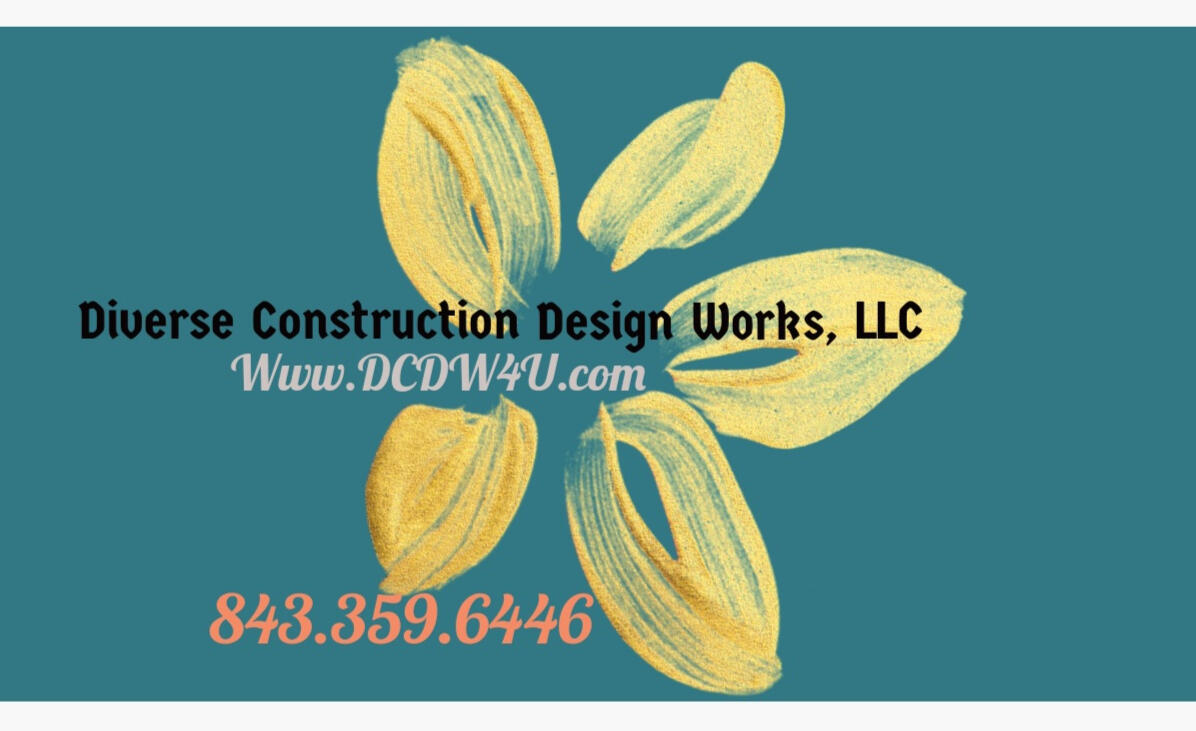 Welcome to DCDW
---
We're excited for you to begin your project! We can discuss ways to fund your projects even if you don't have the hard cash. We're growing our community with each project, let us help you with yours!
Diverse Construction Design Works (DCDW) was established to help you. We also have financing options in case the funds needed for your project is not yet available. Your initial estimate fee can be waived. Call us, tell us what you need, and we can discuss how to get it done, together.
About Us
---
Reimagining Community Longevity Since 2010.
Hello, I'm Ms. Tucker,
I am a single mother of two millennials. I have been in residential construction for 11 years. As a licensed general contractor I chose residential construction because it's what I love to do, it doesn't seem like work and I'm pretty great at it.
DCDW is for people looking for quality work at reasonable prices, transparency on costs, risks, and someone who will do their best to actualize their vision for their home through completion. I started this business because people often told me of situations where they had been overlooked, overcharged, left with incomplete projects, or simply could not afford to pay for projects outright. My goal was to make sure they and you had someone to rely on, who could handle their project, charge a reasonable fee, complete their project, and offer financial services that would aid in paying for their construction services.
Here are the services we offer coming up next.
---
We can help
Real Estate Investment opportunities

DIY guidance and assistance

Home and Business renovations

Remodeling Specialist

Property Preparedness for sale of property

Property Management
DCDW takes on most projects and we typically walk clients through start to finish of their project before signing contracts. DCDW offers green and smart home upgrades for remodeling projects, new builds, home repair and alterations. We discuss costs, options, possible risks, contingency planning, and time lines.
Transparency is what we value most as the consumer so it's what DCDW offers to our clients.
DCDW has skilled experience in masonry, carpentry, wood framing, new builds, sheetrock, insulation, cabinetry, tiling, installing light fixtures, roofing, foundation repair, siding install, residential restoration & repair, and general home improvements. DCDW has a portfolio of completed projects including sheetrock, flooring, light fixture installs, cabinetry, painting of exterior and interior, kitchen, and bathroom remodel projects. Since there is no such thing as a perfect project we work to relieve the stresses along the way with transparency.
We empower our clients by using home improvement simulation software (to see the project before it begins), financing options, budget friendly planning, green efficiency options, smart home technologies, empowerment sessions to release stress, and a contingency plan methodology (to try and avoid unforeseen costs). This is so we can possibly avoid issues that are common for construction projects. Even with small to-do-lists we make sure we bring our best skills to your home. Up next is a recommendation for larger projects like renovations.
Brief Insights
---
Having a vision is how we can work together towards reaching your goals. When remodeling, altering the home, large repairs and new builds we encourage our clients to envision what they need before we begin their project because changing a project once it has begun can be costly. Vision boards, visual simulation software, and window shopping can help with material selections, budget, and give visual life to a project before it begins.
What level of quality do you need?
Not sure?
We can give you options.
Have you gotten any quotes to align goals with your budget?
Take advantage of free consultations where available.
Then, you will see the value we bring to your home's needs.
Whether you have constraints or flexibility when it comes to your project budget we can develop a plan of action to complete your project goals together.
Compact Portfolios
---
Here are some slideshows of completed projects. This is also not a totality of our work completed, just some visuals that depict our work using customer choices. There is a bathroom, a garage, a kitchen, and some interior and exterior painting work. Not everyone wants their work displayed, but we wanted to give a visual representation of our work. Most of our work will be seen on our social media platforms, so make sure you like, subscribe, follow, and add us as your friend. For a quick review, here is a sampling.
Contact
---
We're excited for you to begin your project! You can get it done, and we're here to help! We're currently accepting projects in NC and SC states. You can use the below social media icons, the form, or call (843)359-6446 to initiate contact with us. Serious inquiries only, we do have clients to serve.
Take good care and be safe!